8th Yokogawa-International-Art-Charity-Festival
21st / 22nd April 2018
At the 2018 art-festival more than 30 artists from 6 countries took part, donating about 120 artworks for the good cause of helping the victims of the 2011 earthquake and tsunami catastrophe in Northwest-Japan. We could sell a large amount of the donated artworks and together with the proceeds of the Opening Party/Concert and after-event sales we could collect
142,899 Yen !!
142,899 Yen were donated to
Iwaki no Shokihibaku wo tsuikyuu suru Mama no Kai
An organisation of concerned mothers who bought radiation measure devices to check the radiation levels of public places by themselves. They´re also teaching other cities and prefectures how to use these devices.

More info here (Japanese only):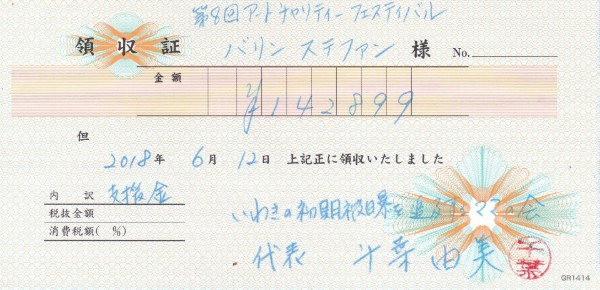 8th Yokogawa-International-Art-Charity-Festival
21st / 22nd April 2018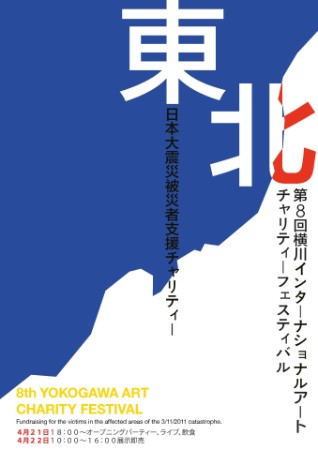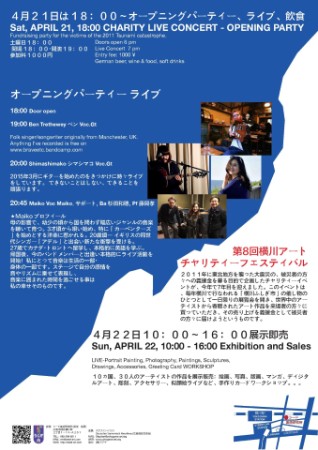 In cooperation with SEED Art Laboratory Hiroshima
Purpose: Fundraising for the victims in the affected areas of the 3/11/2011 earthquake and tsunami catastrophe in Japan.
Date: 21./22. April 2018
Place: SEED Art Laboratory ,Yokogawa, Hiroshima, Japan
Time: April 21st: OPENING PARTY with concert from 18:00
April 22nd: Exhibition and Sales from 10:00 to 16:00
Entry fee: Opening Party with Live music: 1000 Yen
April 22nd: FREE ENTRY (donations welcome)
Selling price of the works: 1000-10000 Yen
Deadline to confirm participation: April/01/2018
Deadline for submitting artworks: April/15/2018
If you have any questions, please contact Stephan at stephan@yokogawa-art.org
8th Yokogawa-Art-Charity-Festival
Sat / Sun, APRIL 21/22, 2018
Sat, APRIL 21, 18:00
CHARITY LIVE CONCERT - OPENING PARTY
Fundraising party for the victims of the 2011 Tsunami catastrophe.

Doors open 6 pm
Live Concert starts at 7 pm
Entry fee: 1000 Yen

German beer, wine and food, softdrinks

100% of the party proceeds will be donated !!!

Hope to see you all there !!

Performers:
Ben Trethewey
シマシマコ
MAIKO

You will also of course have a chance to see and buy the exhibited artworks for the good cause.

Googlemap-Link to the venue:
http://goo.gl/maps/XvZWi

The main event will be the following day, Sunday, April 22nd from 10:00 to 16:00, as part of the Yokogawa Fushigiichi-festivals.
With friendly support of Fujiya company Hiroshima.
8th Yokogawa-Art-Charity-Festival
Sun, APRIL 22, 10:00 - 16:00 Exhibiton and Sales
Fundraising exhibition and sales for the victims of the 2011 Tsunami catastrophe.

LIVE-Portrait Painting, , Photography, Paintings, Sculptures, Drawings, Accessories, postcards,…..
Greeting Card WORKSHOP

Charity – Art – Exhibition and sales from 10:00 to 16:00 as part of the Fushigi-ichi festival´s around Yokogawa station on Sunday, April 22.
The entry is free of charge (donations welcome!)

The donated artworks will be exhibited and sold and 100% of the proceeds will be donated.
Please come, see and buy/donate !! And please bring your friends and family along. The surrounding matsuri is also worth going, with the Cosplay-Parade, 5 Live stages, food and drinks.


GOOGLE-Link to the venue:
http://goo.gl/maps/XvZWi


Website Fushigi-ichi festival:
http://wondercarnival.web.fc2.com/fushigi/indexf.html